You decided to travel to Tromsø? Congratulations, you decided for one of the most beautiful cities in Norway! (Okay, am I allowed to say that after only visiting Oslo and Trondheim (the other places don't count as cities)? Plus I lived in Tromsø and loved it, so I'm a bit biased =P)
Neverless, I think Tromsø is so worth a visit! Here are my top things to do there:
1. Walk around Prestvannet
Maybe I should just let you know at first what Prestvannet is: Prestvannet is a beautiful lake easy to reach from the city centre. I just realised again that I have thousands of photos of that place. Well, I also lived nearby, so it was very easy for me to go there, but it's also worth walking up the hill from the city center. It will take you around 20 minutes walking from Storgata (see map here) and depending on the season you're travelling you'll find a white wonderland or a lively green place. Don't worry, with lively I don't mean that it's crowded by humans, there are just so many birds. So if you like to watch birds, that's also a perfect place for you. Otherwise what about having a picnic there? But be careful, you might get some company who'd like to fly away with your food ;)
It's winter time? You can go skiing there! Lysløypa  (the ski track) is going past Prestvannet and it's perfect to start skiing there. At least I had my first skiing experience ever there :) And in the evening you can go and hunt the northern lights there. It's one of the best places within the city to see them, I heard. You'd like to have more information about the northern lights? Read on, I'll say something more about it later in the article!
Some more facts for you: You can easy walk around the lake, it's around 2 km of walking. If you walk around there in winter time don't underestimate the snow. I was probably acting very inexperienced with all the snow around me, as I never had been in a place with so much snow, so I didn't expect the snow to be that deep. Well, made some experiences then =P
2. Hike up Storsteinen
You want to see Tromsø and its surroundings from above? Very easy and definitely something you shouldn't miss because the view is simply gorgeous!
Right next to the city center of Tromsø you have the 421m high mountain Storsteinen. If you want to make it easy for yourself, you can just take the cablecar (Fjellheisen) up there. It takes only four minutes, costs 150 NOK (and 110 NOK for students) and goes every 30 minutes. The last ride back depends on the season, during the midnight sun period it's only at 1am, I think. The cable car station is in Solliveien 12 in a part of Tromsø called Tromsdalen. It's around 40 minutes walking from the city center of Tromsø: Just go over the bridge and then you'll also pass the arctic cathedral. Another option is to take the bus no. 26 in the direction of Tromsdalen, you can take the bus at the bus stop "Sjøgata" which is directly in the city center next to "Peppes Pizza".
You can also hike up there in around 1 to 1,5 hours. I'd recommend to take the path beginning in Fløyvegen. Another option is to go up straight under the cable car line… but that's really steep!
Up there you have a gorgeous view over Tromsøya (the island which Tromsø is located on) and the mountains topped with snow at every time of the year. And you want to touch snow in the middle of the summer? It's likely that you'll find some remaining snow. You can also go up to Fløya, the very top of the mountain. You don't need to be very sporty, the way is going up very slowly.
If you want to rest a bit, take a break at the Fjellheisen station. There's a restaurant, but also an area inside where you can sit and eat your own brought food without ordering anything. And it's very good to warm up in winter time!
With some luck you are able to see the northern lights here in winter time. In summer time you have one of the best views for the midnight sun here.
Please note that the cable car is not working until February/March 2016 due to reconstruction!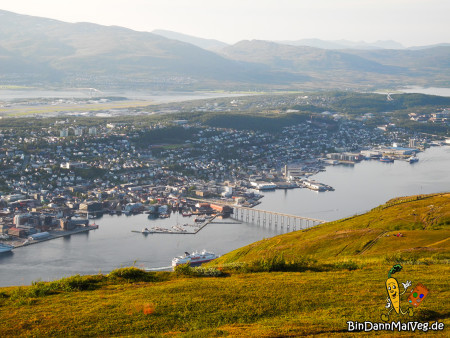 3. Visit the public library
Wait: Wasn't visiting the library already your suggestion in Riga? I know you're librarian, but libraries… I don't know… 
Stop! You really should visit the library or at least have a look from the outside. It's one of the nicest (if not the nicest) building in Tromsø. And I'm not only saying that because I had the possibility to work there for a while.
Formerly the library was a cinema, but it was renovated and rebuild in 2005. Since then the number of visitors and library users increased a lot which is very understandable considering the nice atmosphere, the modern design, the nice events going on there and the awesome view you have at Tromsø bibliotek og byarkiv. So why not enjoying a relatively cheap coffee there while checking your e-mails thanks to the completely free usable WIFI?
By the way the library is one of the most popular libraries in whole Norway!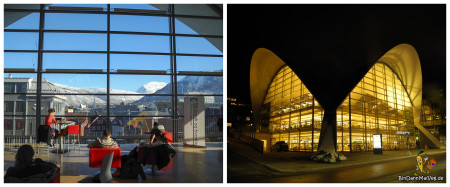 4. Have a walk through the city centre and enjoy some vegan cake at Sivertsens Kafe
Well, if you ask me about my honest opinion: I don't think Tromsø has a supernice city center. I was surprised how small it is when I arrived there for the first time and also the houses don't look that nice. However, visiting Tromsø without seeing the city center seems strange. And if you go there, you can also go for a piece of cake to Sivertsens Kafe. It's a cozy all-vegan cafe in Vestregata 48 (around the corner from the library)/next to the market place. Sivertsens has also small concerts, a book club is meeting there, … so it's not only known because of their food :)
5. Relax at Telegrafbukta
That place definitely had to be mentioned in this list! I found it always so beautiful to sit next to the water and look at the gorgous white mountains around. It's simply an awesome view there. At every time of the day, which means it's also a very nice place to watch the sunset.
Are you brave? Then you can go swimming here, there's also a small beach. (I have to admit I was never brave enough, it always felt too cold for me.)
Telegrafbukta is the south point of the island and easily reachable from the city center by walking, it will take you around 30 minutes. Otherwise you can take the bus here, the bus stop is also called "Telegrafbukta".
In the summer there's also a music festival (Buktafestival) taking place here and attracting around 16.000 people from all over Norway.
6. a) In the summer: Enjoy the midnight sun
The midnight sun is one of the most fascinating things for tourists, I guess. Because midnight sun means sun – 24 hours a day from the end of May to the end of July.
As a person who can usually sleep whenever and wherever when she's tired, I was actually quite surprised that I indeed had some problems to get used to the daylight at first. I remember coming home at around 23.30 one day and I felt like "Oh, it's so early, I can do a lot of stuff." Well… the next day I had to work in the morning, but the light was just so inviting to stay awake.
However, after a while I got used to it. And then it's beautiful to walk around at midnight and to have sunlight.
Tip: To see the midnight sun at its best consider going to Sommarøy (see below) :)
b) In the winter: Be fascinated by the northern lights
That's why many, many people come here, really a lot of people want to see the northern lights in Tromsø. And it's one of the best places on our planet to see them. But you need some luck and it's not that easy to see them.
What I didn't imagine like I saw them for the first time was that they move so quickly. So you sometimes really need to be at the right time at the right place in order to see them. So be patient :)
And seeing them just from the street in the city center? Unlikely. At least you have to be very lucky then because the aurora borealis needs to be very strong then. To have better chances stay away from artificial light like street lamps and such. At the best you leave the city, but also Prestvannet is a good place to see them I heard.
But it also depends heavily on the weather, if you'll be able to see these magic lights. The nights need to be clear and cloudless and of course in summer time you won't see them because it's not dark. (But they're actually there then as well!) Best chances are from September to the middle of April. When I was in Tromsø I also liked to use this aurora forecast.
7. Have a trip to Sommarøy
Okay, I have to admit that Tromsø isn't the biggest place and you don't need that much time to see everything on the island. So consider leaving Tromsø as well, you won't regret it. Just one hour drive you'll find Sommarøy, a small coastal village surrounded by sandy white beaches.
If you don't have a car or plan to rent one, you can (besides hitchhiking) take the bus. There are a few buses, you can check the exact timetables here. Choose Tromsø Prostneset or Havnegata as starting point, these two bus stops are directly in the city center. Bus no. 420 goes directly from Tromsø to Sommarøy taking around 90 minutes.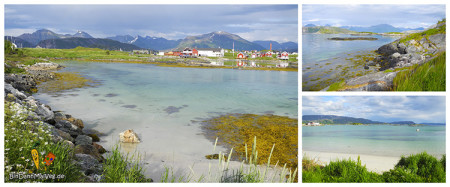 8. Just enjoy the awesome view
It might sound odd, but from time to time I was just walking around, thinking how lucky I am to live in such a beautiful place and just enjoyed the view.
There are a lot of places with a nice view, I already mentioned some of them (Telegrafbukta, Storsteinen). Another place to look in the direction of Storsteinen and a bit over the city is the Tromsø maritime skole in Sommerfeldtsgate 74/76. It's around 15 minutes walking from the city center.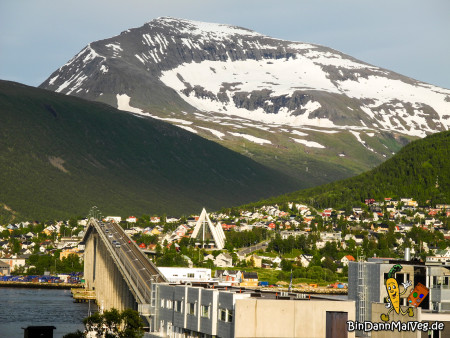 Other things you could do in Tromsø are for example to have a look in the Perspektivet museum. It's a photography museum right in the main street (Storgata), the entrance is free. And you wonder how the famous Hurtigruten ships look like? Of course you can have a look at them in the harbour, but did you know that you can also enter them for free as a guest while they stop in Tromsø? And last but not least, the botanical garden next to the university can be nice as well. Entrance is free.
How long do I need to do all the things you mentioned?
Tromsø is not that big, so you can almost always combine the things mentioned above and do them on the same day. Considering that I also suggested a day outside of Tromsø in Sommarøy I'd say you are able to do all the mentioned things in three days.
Enjoy Tromsø!