Many people don't know that Oreos are usually vegan, but yes, they are. (Just be careful about the "fake ones", they often contain milk!). And knowing this I wanted to bake something with them. Actually I wanted to bake cupcakes, but as making cupcakes just always goes wrong (I definitely have to practise it!), I decided to go for a cake instead.
I made the cake for my flatmates and neighbours when I moved out to study in Latvia and doing that internship in Norway, so I'm always thinking of my flatmates in Germany, when I see the photo of the oreo cake once again :) Greetings to you, if anyone will read that :)
Ingredients
Dark Dough:
400 g Flour
200 g Sugar
50 g Cocoa powder
3 packages vanilla sugar (if you don't know where to buy that, you could simply make it by scraping the tiny seeds from vanilla pods or use vanilla extract if you're lazy, mix that with sugar and then add a bit to the dough. I'd say about 3 – 4 tablespoons of the vanilla sugar.)
5 Oreo cookies, remove the filling from it and set it aside for the light dough (crumbled)
1 package of baking powder (about 3 teaspoons)
40 g Agave syrup
200 ml Water
200 ml Plant-based milk (i. e. Almond milk or you can simply use 400 ml of water instead of milk/water)
100 ml Oil with neutral taste/tasteless (i. e. Sunflower oil)
A few drops of lemon juice
Light Dough:
200 g Flour
100 g Sugar
2 packages vanilla sugar (once again, same as above)
Filling of the previous 5 Oreos
2/3 Package baking powder (same as above, but reduce the amount of baking powder by a little bit)
20 g Agave syrup
200 ml Water
50 ml Oil with neutral taste/tasteless
A few drops of lemon juice
Crean:
400 ml Vegan whipping cream
2 packs Cream stiffener (I honestly don't know where to buy this other than Germany, I personally haven't seen it in other countries but you may get lucky or find a proper substitute)
3 tbsp Powdererd sugar
Crumbled oreos (leftover cookies or as many as you wish/have)
For decoration:
Chocolate chips or grated/shaved chocolate
Preheat oven to 170°c/350°f. Mix the ingredients for the dark dough and put it into a springform pan (26 cm). Bake it in the preheated oven for about 40 – 45 minutes. Once finished, let the cake cool down and prepare the light dough. Mix all ingredients for the light dough and bake about 20 minutes in the still preheated oven, then let it cool as well. For the cream filling, the vegan cream is to be whipped with cream stiffener/stabiliser. After whipping it, add in the powdered sugar and the leftover ground oreos and mix as well.
Now for the dark cake, cut it in the middle of the cake in order to have two layers and spread some of the cream on the bottom layer. Now place the light cake on top of that (there's the middle) and once again put some cream over that. Finally, put the top of the dark cake on the light cake and cover it with the rest of the cream. For decoration I have put some choclate chips on the cake. It's up to you if you want to decorate the cake with more oreos or with dark chocolate pieces.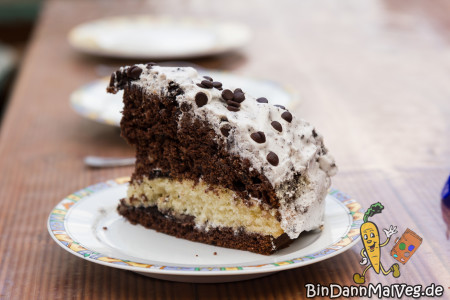 Many thanks to Melody Savoie for translating the recipe for me!