A friend of mine said once: "Veganism is spreading. It's spreading like a virus." I really like how she said this. And in May I also tried to spread "the virus" a bit more in Tromsø.
The first project was the participation in the "Worldwide Vegan Bake Sale".
From 25th April to 2rd May more than 150 groups all over the world sold vegan baked goods. No matter if China, Australia, the USA or South Africa: You could find participants everywhere. But the northernmost vegan bake sale took place in Tromsø :)
Organising it sometimes was a bit stressful (but also because I'm a perfectionist ;)), but in general a lot of fun. We had everything from bombastic chocolate cakes to peanut cupcakes, salty pizza snails, quiche, biscuits, … At the end we achieved 3200 NOK (around 380 €) which we could donate to NOAH – for dyrs rettigheter (the Norwegian animal rights organisation).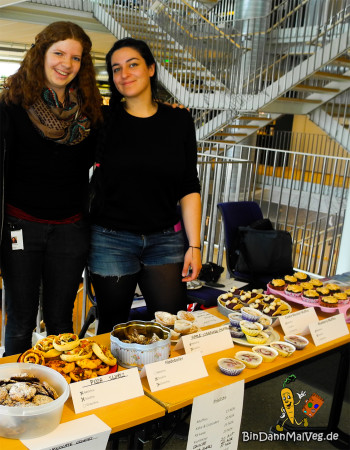 It was definitely nice to see some surprised faces when people got to know that all the delicious things were made without eggs, cow milk, butter, … And I also enjoyed giving interested people advice about veganism :)
There's even a Norwegian newspaper article about our bake sale. (By the way the newspaper contacted me and not the other way around which is even greater :))
Maybe you also like to organise a vegan bake sale in your town? You can find a lot of useful advice here. And although I like the idea of the official "Worldwide Vegan Bake Sale" in a specific period of time: Cake is eaten all year around :)
Another project was the "Vegan Evening" I organised in the public library of Tromsø.
It consisted of a presentation which I held with a dedicated Norwegian girl for around an hours and a question session afterwards. The presentation included the topics veganism in general, its reasons, veganism in Norway & Tromsø, book & DVD recommendations and practical advice on how to find vegan food alternatives and where to buy them. Later on we offered food samples and people could try a lot of different plant-based milk which was sponsored by two companies.
The whole event was a lot of work: From designing flyers & posters, hanging them up & handing these out, finding sponsors, looking for well-grounded information about veganism (also specifically about veganism in Norway), staying in touch with all the people who where somehow involved in the event, coordinating, care about the technical stuff, cooking & baking, … but lthough I especially stressed myself a lot at the end: I really liked to do it!
And even speaking with the microphone wasn't that bad… although I hate my voice =D
And definitely one of the nicest things that evening: A friend of mine told me that she found the presentation very convincing and that she also wants to go vegan now ♥
Moreover we got quite a lot positive feedback, also from people I have never seen before. That is so awesome and motivating! Especially as there were quite a few things which went wrong in the last minutes before =D
However, as not everything is always perfect: It'd have been nice to reach more non-vegans/-vegetarians with that event. Although it's unrealistic to expect that a loooot of non-vegans/-vegetarians would turn up. But still, I'm satisfied with the event. If anyone would have told me three years ago that I'd (voluntary!) held a presentation in English in another country (with a lot of people who speak better English than I do =D) for almost an hour: I'd have thought the person is crazy =D
I'll also add the presentation here, in case anyone is interested. Though some slides are hard to understand if you don't know the speaking part. But feel free to ask me about more information!
Presentation Vegan Evening Tromsø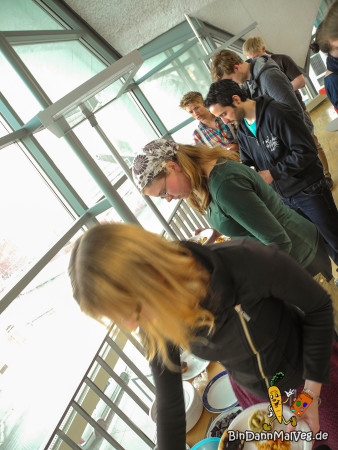 Two last things: I'm quite happy that I can do so cool things in a country which language I barely speak.
But it was great to have so many helpful, supporting people around me! No matter if we're talking about the great cake bakers, the volunteers selling the delicious food, the people who gave me very useful advice, the ones who helped me the hours before the event when I almost went crazy, the many, many people who helped me leaving the library not in a mess, … :)
Might sound very kitschy now. But in case any of you reads that: I really, really thank you a lot, it meant a lot to me!